Build Your Business With A Winning Digital Transformation Roadmap
In the digital age, emerging technologies are creating seismic shifts in every industry. Construction is becoming more efficient. Banking is becoming more accessible. Retail is becoming more immersive. Everywhere around us, companies are investing heavily in new technologies to maintain and, in some cases, exceed their growth. However, technology isn't everything. Digital transformation is a shift in mindset that requires an organization to strongly reconsider their business strategies, products and operations. By developing a digital transformation strategy, businesses can evolve to address the deeply rooted problems that are preventing them from achieving success. Businesses who prioritize building a digital roadmap will set themselves up for continued success and can provide business solutions such as:
Improving the customer experience
Enhancing productivity
Fostering collaboration
Enabling data-driven insights
Boosting competitive advantages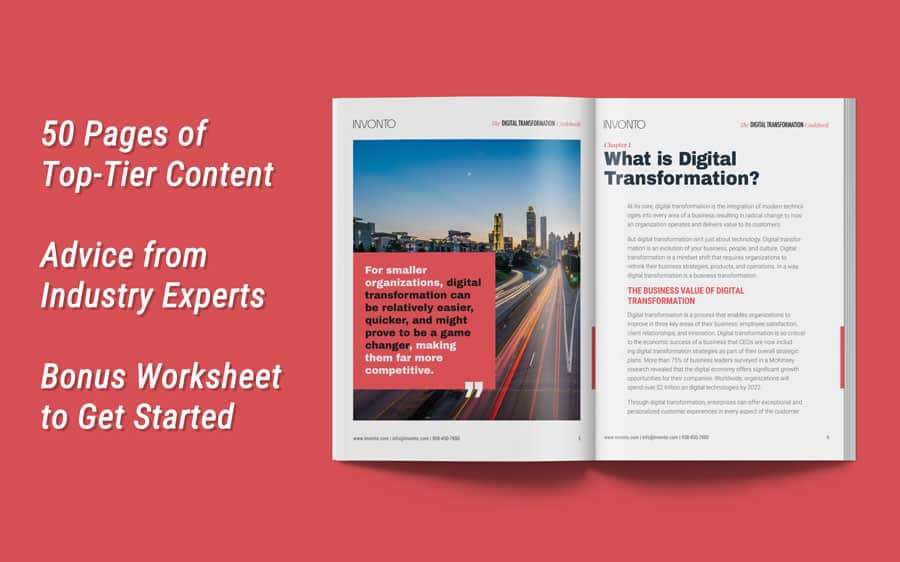 But how do you develop a digital transformation strategy? Without guidance, most businesses that embark on their digital transformation journey will fail. Our business, Invonto, has spent the last ten years helping enterprises successfully traverse the digital transformation journey and find real tangible success. We have collected our years of expertise and distilled them into a simple action-plan that is designed to help your business achieve its most immediate objectives.
By downloading our free digital transformation strategy guide, you will learn:
To Understand The Business Value Of Digital Transformation
To Communicate Digital Transformation To Your Team
To Establish Digital Leadership In Your Business
To Develop Your Own Digital Transformation Strategy
To Utilize Emerging Technologies For Rapid Business Growth
Fill out the form below to download your FREE COPY of our brand new e-book, "The Digital Transformation Cookbook".