Schools and education must evolve to embrace new learning styles and technologies that can captivate students, while concurrently maintaining integrity of the knowledge in areas like literature and history that help create well rounded people.
Daniel Newman, Forbes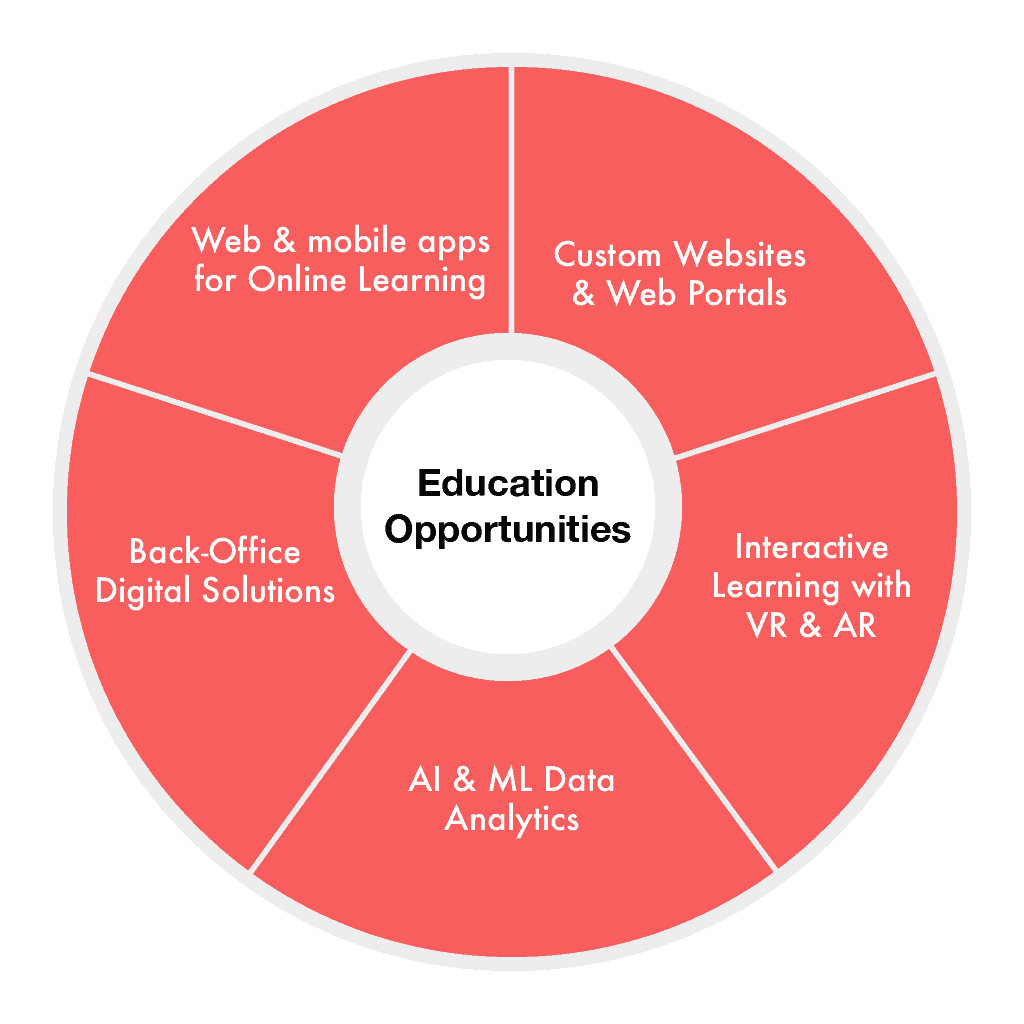 DIGITAL TRANSFORMATION IN EDUCATION
Customized Digital Experiences To Enhance Student Education
Education Institutions have a massive opportunity to create new educational products and transform existing products into digital mediums. Offline lectures are now available online to more students. Digital tests and quizzes are documented to track student progress. Student admissions can digitize its records to streamline the registration process. IoT provides plenty of advanced data to help automate useful processes including smart lighting and thermostats within the school. As more campuses evolve into mini-cities, institutions can install information kiosks, optimize energy usage, and improve campus security. Keep students informed through accessible mobile applications that they can use to organize their student life, pay for campus meals, and use student transportation services. Integrate an AI-powered chatbot in your mobile app to answer student questions and provide them high quality customer service. Augmented and virtual reality are already being used in the classroom to further enhance the learning experience. Why read about World History, when you can experience it from your desk? Help students understand math through interactive visualization. Interview famous authors long gone to learn more about their creative works. Each educational program can benefit from virtual and augmented reality. By investing in these technologies, educational institutions can expect to see students more immersed in learning, higher student retention rates, and lower overall operational costs.
Digital adoption is a massive opportunity for companies who leverage the right technologies.
CUSTOM DIGITAL SOLUTIONS IN EDUCATION
We develop digital products to make learning and teaching interactive and engaging
Invonto develops digital products to deliver memorable learning experiences for your students.
About Invonto
We Empower Visionary Leaders in the Evolving World of Technology
Invonto is a digital solutions company based in New Jersey. Founded in 2008, Invonto has grown into becoming a digital transformation partner for some of America's most innovative enterprises including D.R. Horton, Transamerica, Sealed Air, Comcast, Sharp, and Epicor.
PROSPER WITH INVONTO
Organizations in education have already experienced success through our digital solutions. Are you next?


Ready to get started?
Let's talk about what is next for your business
Your digital transformation journey starts with a free consultation with one of our experts.
error:
This content is the intellectual property of Invonto, LLC. Please do not plagiarize.