Virtual Reality (VR) App Development Company
Custom Virtual Reality Solutions For Enterprises
Virtual reality development helps companies create simulations for their products and processes. Virtual reality apps improve data visualization and product interactions. Instead of conducting risky and expensive in-person safety training exercises, companies can offer virtual reality training.
There are many different enterprise use cases for virtual reality across industries. In retail, customers can view and interact with product samples in virtual reality before making a purchase. In construction and home building, end-users can walk through virtual reality simulation of the planned space. In healthcare, medical professionals can learn new procedures. Virtual reality can even allow you to go under the hood of your next car without leaving your home.
Virtual Reality App Development Process
The success of virtual reality apps depend on experience design, quality of the 3D models, and smooth user interactions. Invonto's VR app development process includes: strategy, experience design, asset creation, VR development, testing, and deployment.
We work with you to create a VR strategy for your business that supports your goals. One key consideration to make is the selection of the VR headset. Some headsets like Oculus Go are limited in supporting 360 videos. Headsets like HTC Vive, Oculus Rift, and Samsung Gear are true gaming headsets packed with a lot of capabilities but require a gaming PC and users will be tethered to the PC while wearing the headset. Oculus Quest is a standalone headset which provides flexibility to use VR without a gaming PC but quality of experience may not be as detailed as the tethered headsets. As the cost of VR systems can range from $200 to over $2000, you are better off picking a headset before starting VR app development for your company. We can help you make the right technology decisions.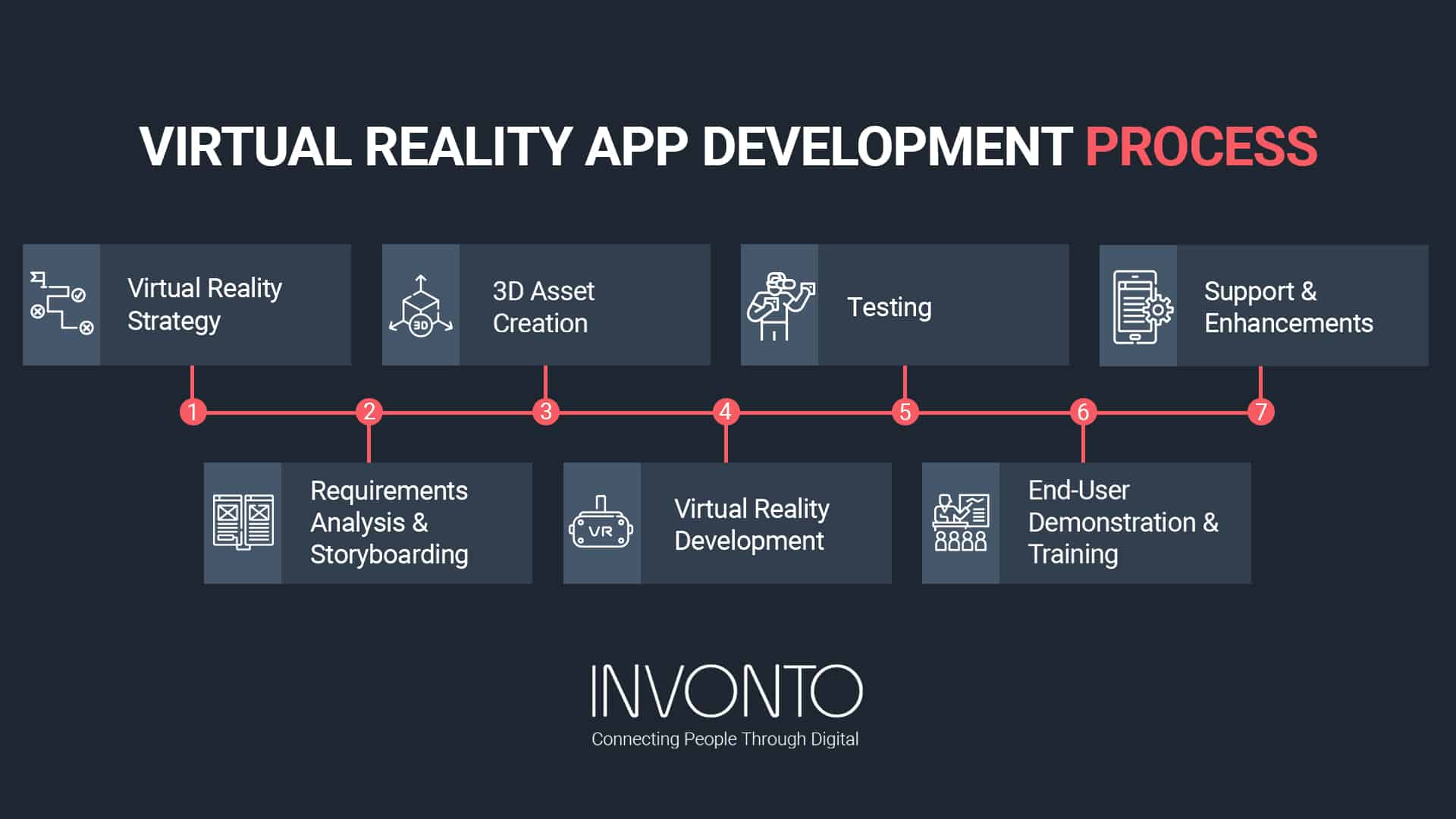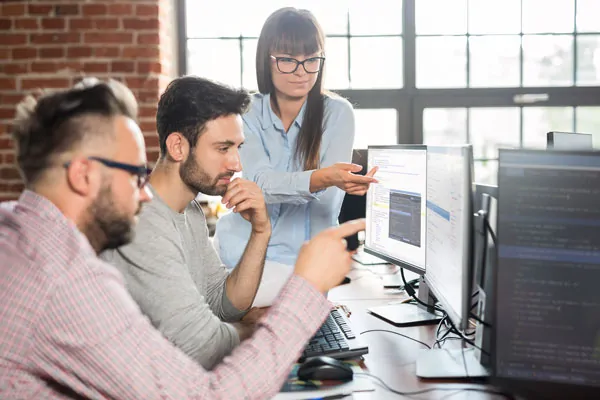 Virtual Reality Experience Design
Virtual reality is all about experience. These experiences are made of different scenes. At the beginning of the experience design, we start with a storyboard approach to identify different scenes, visual assets that will be required for each scene, and interactions the user can have with objects in a VR scene. We design VR experiences that look realistic and function as close to the real environment as possible. We develop 3D models, virtual environments, and interactions. Our technical artists and experience designers use Maya 3D, Blender, ZBrush, and Adobe design tools for creating 3D models and layouts. We utilize haptic technology to experience touch. We enhance virtual settings with sound. We build locomotion allowing users to smoothly navigate in a virtual environment.
VR App Development
Invonto has over a decade of experience in enterprise software application development for web and mobile. Our expertise in digital strategy, solution design, and development helps us deliver successful VR apps. We have worked with everyone from small businesses to global enterprises. Our primary focus is to build enterprise VR applications that solve business problems. Our VR app development capabilities include creating training simulations, plan visualization, 360 walkthroughs, 3D modeling, geolocation apps, live action applications, work collaboration solutions, and gaming applications.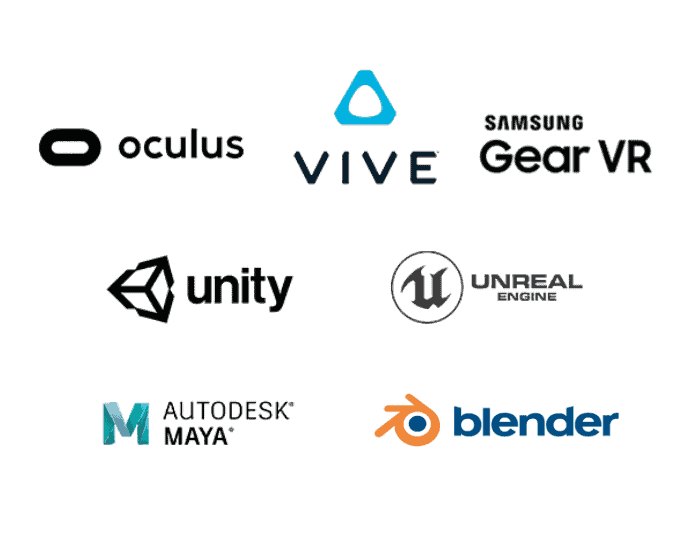 Virtual Reality Technologies
Invonto specializes in building interactive VR applications. Our VR app developers use the latest VR technology for creating apps that exceed our client's expectations. We provide VR app development services for Oculus, HTC, and Samsung headsets. We have expertise creating VR apps with Unity 3D and Unreal Engine.
Oculus
HTC VIVE
Samsung Gear
Unity 3D
Unreal Engine
Autodesk MAYA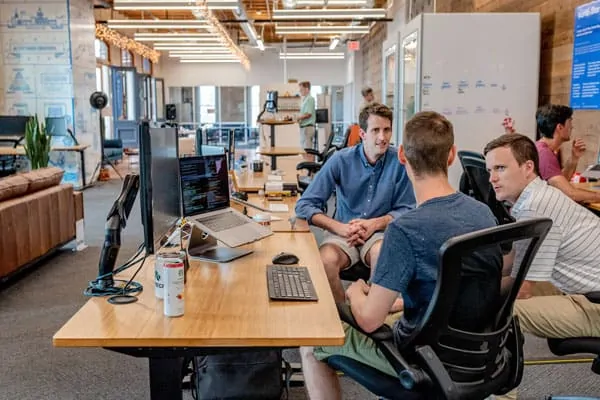 Software QA Testing
Invonto offers software QA testing services to thoroughly validate your app before it is launched. As part of our software app testing, we test app's functionality and usability. Performance and security are other success criteria. We perform multi-user testing at different data bandwidth to simulate end-user experience. We verify data encryption and protection. Testing makes applications stable, usable, and secure. This improves user adoption and retention.
Virtual Reality R&D and Prototyping
Virtual reality solutions can transform your business processes. However, building full-featured VR applications takes time and investment. Our Research & Development (R&D) services will help you develop a MVP with key features. This allows you to validate your idea before making a full commitment. We can create a basic VR app with just a virtual environment that you can walk through or build an extensive VR solution that has detailed models and interactivity.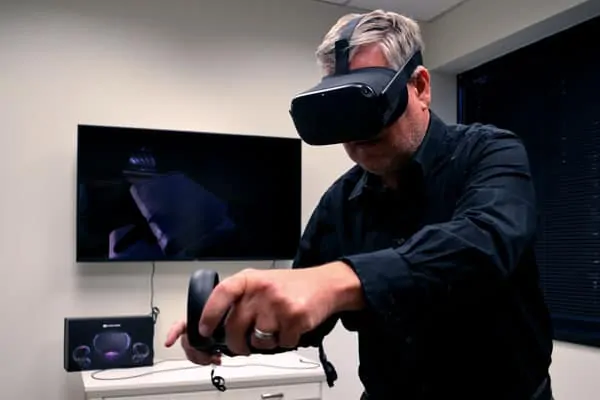 VR Roadshow: Virtual Reality Demonstrations
Invonto runs a Virtual Reality Roadshow at different venues across New Jersey and New York. At the roadshow events, Invonto conducts in-person demonstration of virtual reality using Oculus Quest. Invonto's VR Roadshow events allow participants to gain first hand experience of virtual reality technolgy and its potential for business usecases across the industries.
Hire Invonto - America's Top Virtual Reality Development Company
SUCCESS STORIES
Application Development Has Resulted in Immense Growth for our Partners
Virtual Reality App Development Company
Let's talk about how VR can transform your company
Your journey starts with a free consultation
error:
This content is the intellectual property of Invonto, LLC. Please do not plagiarize.