After years of innovation and technology selection, brands and retailers are now competing on speed, efficiency and simplicity of experience - all the while juggling increased data, accessibility and privacy concerns.
Charles Desjardins, Absolunet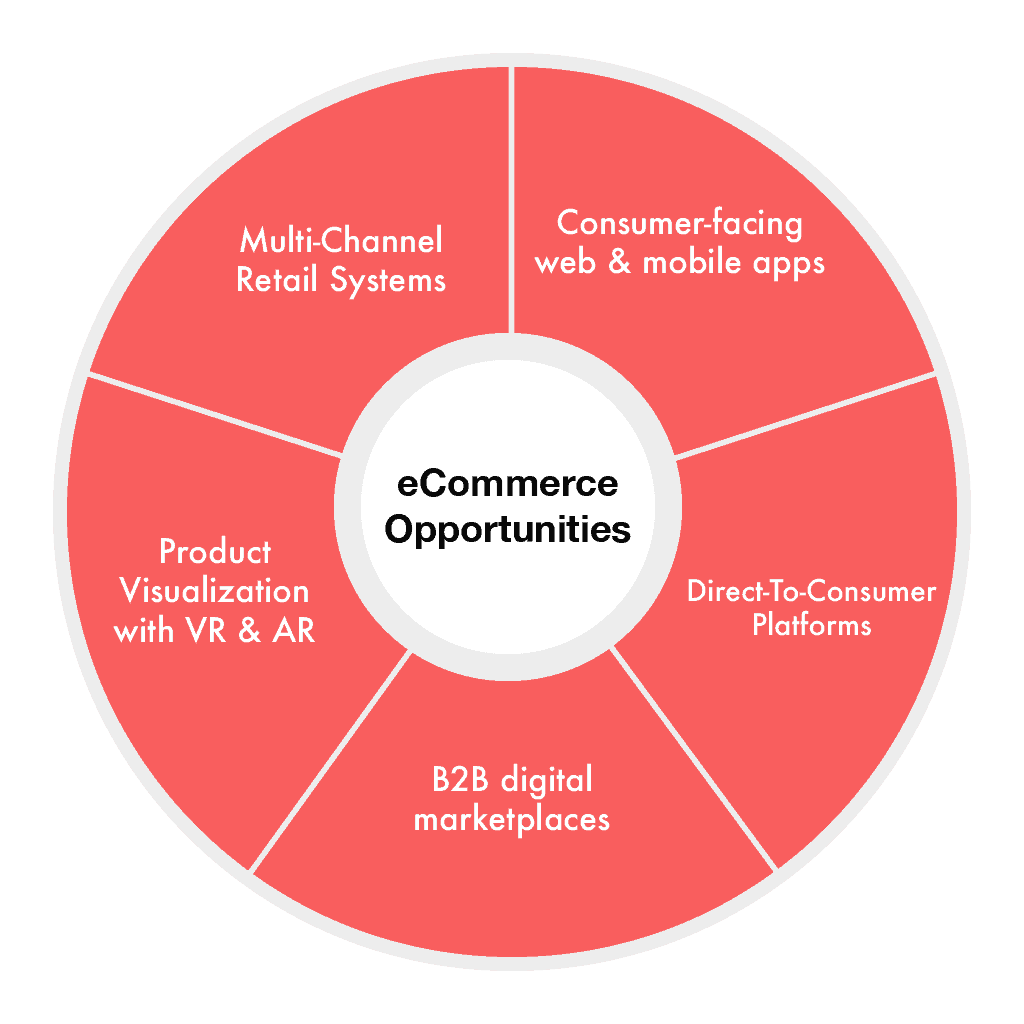 DIGITAL TRANSFORMATION IN ECOMMERCE
Capitalizing on Consumer Demand for Digital Products
Whether your business relies on generating revenue through mobile applications or websites, there are ample opportunities for business leaders to provide consumers with innovative experiences. Successful ventures focus on developing an omnichannel presence across major mobile and desktop devices. Mobile applications offer high performance, online/offline access, and customer communication. Businesses can extend the capabilities of their mobile apps with data analytics and machine learning. With machine learning, businesses can optimize their storefront for product recommendations, customer support, self-service platforms, and price optimization. Integrating chatbots into the storefront offers the ability to give customers quick replies to FAQs and further personalize their experience. Augmented reality offers more visual information to increase consumer understanding of a product. By allowing customers to preview product variations and styles, customers will save time on decision-making and will be more satisfied with their purchase. By investing in technology, ecommerce businesses can develop an omnichannel digital strategy to provide customers value and purchase gratification.
Digital adoption is a massive opportunity for companies who leverage the right technologies.
ECOMMERCE DEVELOPMENT SOLUTIONS
We develop custom ecommerce software that helps you outgrow, outperform, and outsell the competition.
Invonto develops ecommerce web and mobile apps that deliver memorable experiences for your customers.
About Invonto
We Empower Visionary Leaders in the Evolving World of Technology
Invonto is a digital solutions company based in New Jersey. Founded in 2008, Invonto has grown into becoming a digital transformation partner for some of America's most innovative enterprises including D.R. Horton, Transamerica, Sealed Air, Comcast, Sharp, and Epicor.
PROSPER WITH INVONTO
Top eCommerce Companies have already experienced success through our ecommerce development services. Are you next?






Ready to get started?
Let's talk about what is next for your business
Your digital transformation journey starts with a free consultation with one of our experts.
error:
This content is the intellectual property of Invonto, LLC. Please do not plagiarize.