What Is Digital Transformation?
Digital transformation is the application of modern technologies to processes, products, and assets to enable organizations to radically improve their business performance and deliver value to their customers.
But digital transformation is more than just making changes in technology. It also requires that enterprises change the way they adapt their operations to these new technologies, such as the cloud, mobility, Internet of Things (IoT), artificial intelligence, and blockchain, rather than merely adopting them.
Why Is Digital Transformation Important For Your Business?
Digital transformation can help your company be more profitable, improve customer satisfaction, and allow you to get your products to market faster.
---
Top Digital Transformation Trends 2019
By following the key trends in digital transformation, you can create a growth strategy for your business. Here are some of the top digital transformation trends of 2019:
CIOs make digital transformation a primary business objective
Modern CIOs assume more business leadership responsibilities as organizations face increased pressure to better manage costs and security as well as speed time to market and enhance customer service. As such, CIOs understand the importance of digital transformation to help their companies meet these goals and are able to "make convincing arguments for why their organizations should embrace these opportunities." In times when labor is in a short supply in many industries, digital solutions have become important for improving employee productivity as well as skills for reducing labor supply challenges. CIOs are realizing that embracing digital is the only way their organization can compete and remain successful. Gap recently revealed their own technology strategy to create an omnichannel experience across physical stores and digital marketplaces.
Digital transformation generates new revenue opportunities
Organizations that use their information more effectively can be twice as profitable as companies that use more traditional approaches. Automating marketing processes, for example, can help companies take customers through a faster sales process by getting marketing information to them via social media and/or email. In addition, with digital technologies, such as blockchain, enterprises can create safer networks for their applications to help them retain clients.
Organizations that transform their businesses digitally are also able be more competitive by going after new business opportunities. Take an automaker, for example. Currently, connected cars can track how fast we're driving, when we use our blinkers as well as our locations. Soon, car manufacturers will be offering us coupons to the nearest service station when our gas tanks are close to empty. In fact, by 2030 revenue from this digital business will reach $750 billion, according to the automakers.
READ: How much does it cost to build an app
Enterprises continue to shift toward cloud solutions
Digital transformation is causing businesses to restructure their IT departments. According to a report from 451 Research, about 60 percent of enterprises say that they will run the majority of their IT operations off-premises by the end of 2019, mainly via public cloud infrastructure and software-as-a-service. These enterprises understand that to compete and succeed in their digital transformation journeys, they have to migrate their processes to the cloud and use cloud-native applications. Cloud computing enables organizations to be agile and flexible. Additionally, it is cost effective because companies don't have to purchase and manage their own IT infrastructures and they only pay for the resources they use. Cloud computing increases productivity by allowing employees to access files from any place at any time and enables collaboration.
"Succeeding in your digital transformation journey isn't just about your ability to implement modern technologies. Rather, you must also rethink your strategy, culture, and talent as well as the opportunities that might or might not exist within the traditional boundaries of your industry."
Click To Tweet
Enterprise mobility drives digital transformation forward
To stay in touch with their customers as well as their employees, businesses must focus on enterprise mobility as a key initiative for digital transformation. With the ever-increasing number of customers and employees who use mobile devices to research, shop, pay for goods or services and more, companies understand the need to keep mobile at the forefront of their digital transformation initiatives. As IoT usage increases the number of connected devices, such as wearables and smart home systems, the need for mobile applications will only grow. With growing demands for the Augmented Reality and Virtual Reality solutions, mobile apps have stayed a dominant force as part of digital strategy of every business.
READ: Learn how to develop your own Enterprise Mobility strategy
User experience and data security become key factors
Because digital transformation starts with customers in mind, businesses are more aware that they need to be more user-centric to be successful in their digital transition projects. Consequently, a first-rate user experience is critical to keeping customers engaged with a company and achieving a competitive edge.
As enterprise embrace digital transformation, they are creating, storing, and transferring massive amounts of sensitive data in digital form, thus putting more of that data at risk. And with the increase in cloud computing, mobile, and IoT devices, more attack surfaces are vulnerable to hackers. Organizations, therefore, are paying more attention to increasing security to protect their sensitive data.
The role of the chief digital officer takes center stage
In a digital transformation effort, the CIO typically concentrates on short-term IT services and delivery, looking to the cloud for increased capacity. On the other hand, the CTO likely focuses on using digital technologies to promote a specific digital initiative, e.g., creating cloud-native apps to speed their delivery outside of IT or implementing agile development processes to speed time to market. However, because of these competing agendas, the long term digital transformation strategy may be watered down. As a result, organizations understand the need for another executive, the chief digital officer, whose responsibility is to generate the overall digital vision for the future of the business. CDOs overlook both strategy and execution of organization's digital goals, while always staying aware of the new industry development and incorporating new goals in the strategy. CDOs also ensure that the organization is receiving the benefits they expected from their digital transformation objectives.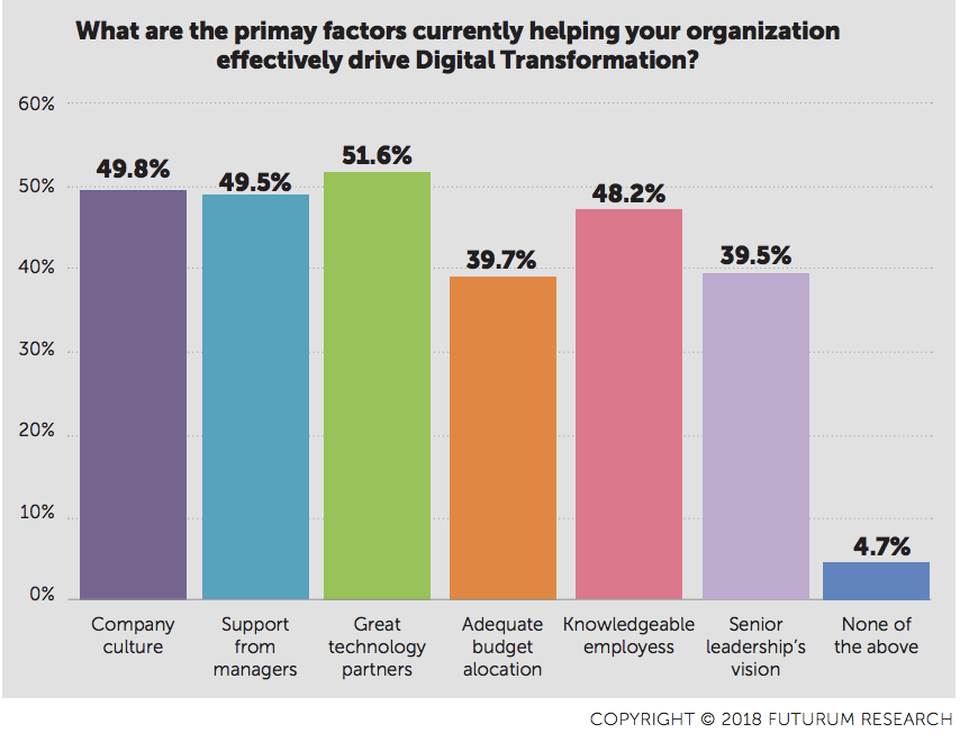 Biggest Digital Transformation Hurdles, Research by Futurum Research
---
How To Prepare For Your Digital Transformation Journey Today
Succeeding in your digital transformation journey isn't just about your ability to implement modern technologies. Rather, you must also rethink your strategy, culture, and talent as well as the opportunities that might or might not exist within the traditional boundaries of your industry. The key, though, is understanding what each of your organization's leaders think a digital transformation might involve, and then aligning those leaders around a common definition and focus. If your leadership team is committed to what digital transformation really means for your organization, you will be well on your way to achieving your goal.
What do you think about these key digital transformation trends we highlighted? Are you ready to build digital transformation solutions for your business? Let us know in the comments below.