An effective enterprise mobility strategy is not about determining pros and cons, rather embracing the overall impact that new mobile technology will have on the future of your business.
Mobility solutions are now part of our everyday personal and professional lives. In the U.S. alone, consumers are spending 5 hours per day on mobile devices.
We all heavily rely on apps on our mobile phones, tablets, and phablets for:
Shopping
Banking
Entertainment
Productivity
Connection
And, even going beyond reality.
Similarly, the growing adoption of mobile technology presents an even greater opportunity for enterprise brands.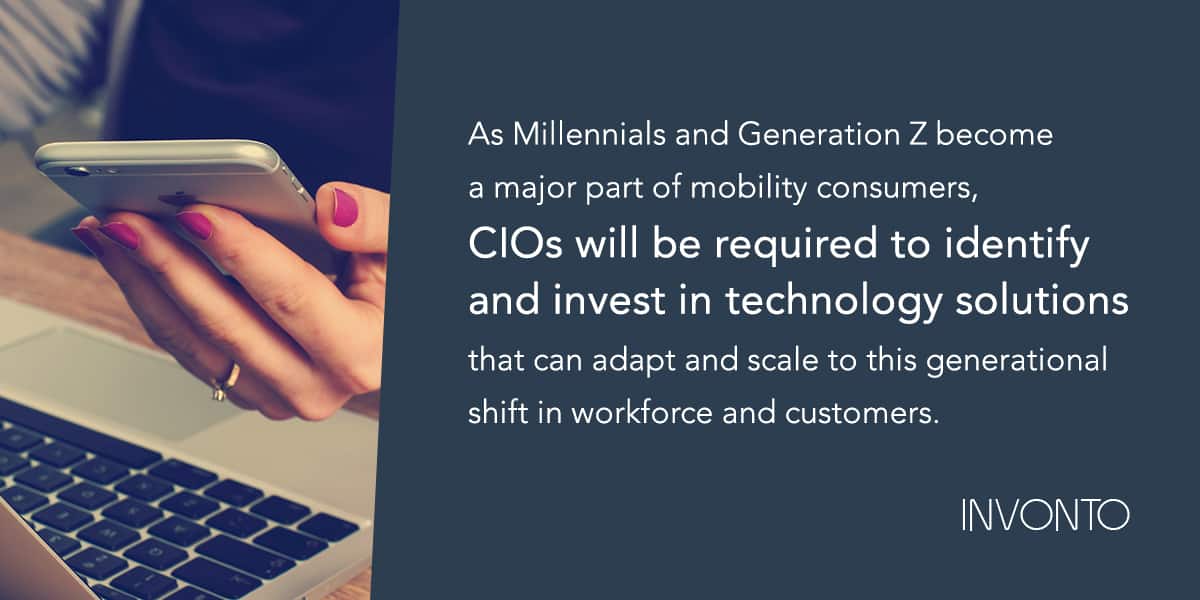 Millennials and Generation Z have become a major part of mobility consumers. As a result, CIOs will be required to identify and invest in technology solutions that can adapt and scale to this generational shift. In particular, recent studies have shown that mobility is at the forefront of enterprise tech investment.
More than 77% CIOs and IT executives are considering a mobile-first approach for digital transformation. 
Consequently, the growing demand for mobility is driving companies to reinvent operations, capitalizing on the benefits of mobile enterprise solutions.
However, few businesses today are equipped with the understanding of how to develop a successful enterprise mobility strategy.
This article will provide you the information needed to help create an effective mobility strategy, specifically for your business.
We'll dive into:
disruptive enterprise mobility trends,
six must-haves for your enterprise mobility strategy, and
key questions to ask during each phase.
But first…
---
What is Enterprise Mobility?
Enterprise mobility is the deployment of mobile solutions across an organization. In other words, it connects people, processes, and things by leveraging mobile technology.
Enterprise mobility solutions are often used for:
Providing customers with the ability to self-provision services
Creating new user experiences that are simple, personal and smart
Removing complexities from internal processes
Building new revenue systems around data
Obviously, enterprise mobility doesn't work in a silo. As a matter of fact, enterprise mobility is part of an overall technology narrative. It often works in conjunction with a company's other technology initiatives.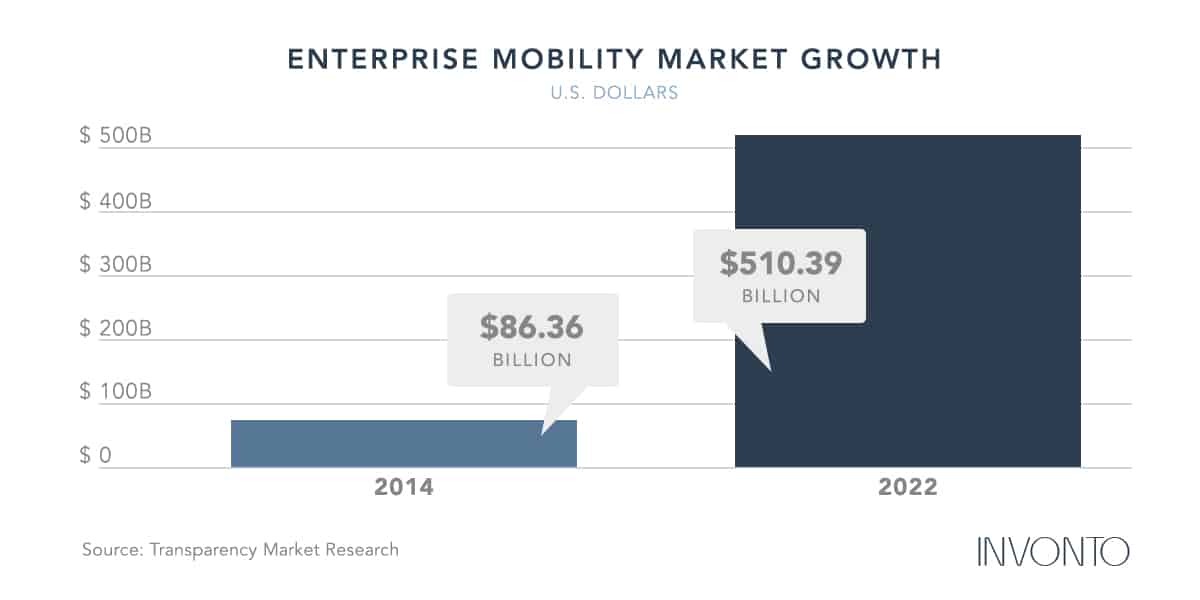 The global enterprise mobility market is estimated to grow from $86.36 billion in 2014 to $510.39 billion by 2022.
Highly robust enterprise mobile solutions can offer your employees endless ways to increase their impact on business growth. At the same time, they offer clients and customers easier ways to utilize your products and services while increasing touch points with your business.
Developing a successful enterprise mobility strategy is no longer just ahead-of-the-curve thinking. Enterprise mobility is a must for any company seeking to stay competitive.
Click To Tweet
To demonstrate, let's look at examples of disruptive mobility solutions including five prominent enterprise markets.
---
Recent Enterprise Mobility Trends
Enterprise mobility solutions do vary widely by industry. However, every business must have an enterprise mobility strategy that is:
Unique to its own industry
Addresses its specific business needs
Based on its stage of mobile adoption
Here are a few examples of mobility solutions which have disrupted various industries:
FinTech
Mobile payment solutions are advancing quickly, offering consumers easier ways to pay with their mobile device. Only 3 percent of payments are being made via smartphone in the U.S. As a result, there are tremendous opportunities exist in FinTech for mobile including:
Mobile banking services
Digital wallets with enhanced security
E-commerce applications
Mobile real-time investing
Mobile payment solutions
Construction
Mobile technology is transforming the real estate and construction industries. Imagine anyone from builder, architect, or potential owner "walking" around and visualizing the inside of a prospective living or working space using augmented reality solutions.
Better yet, never having to attend another open house again!
The introduction of virtual reality in this field will explode in growth over the coming years.
As a result, home builders and construction companies will embrace mobile technologies for:
Field service solutions with access to actionable data in real time
Customer, builder, and vendor collaboration solutions
Optimizing and mobilizing business processes
Retail
While walking through the aisles of your grocery store, your mobile digital assistant lets you know about in-store flyer sales for products on the aisle you just entered. Or, because you're a regular customer, the store sent you a loyalty purchase discount.
Enter Bluetooth Low Energy (BLE) devices, or "proximity beacons".
From mobile apps for product sales to in-store personalized marketing solutions, the early adopters of mobile technology are clearly retailers. With enterprise mobility, retailers are empowered to differentiate their services at scale, and effectively connect with their customers.
Retailers can add value by personalizing mobile solutions that seamlessly integrate voice & AI functions with digital assistants. In addition, brands can differentiate on more than just price by redefining customer experience using enterprise mobility solutions.
Logistics
Real-time logistics management technology is a reality now, giving businesses access to actionable data for:
Optimizing lead time schedules
Managing the supply chain
Streamlining processes for error reductions/operational efficiencies
Utilizing geospatial data from transportation networks
Improving inventory turns
Reducing inventory holding costs
Enterprise mobility solutions are helping the supply chain with apps for fleet tracking, inventory management, and order fulfillment. In a word, the advantages are apparent for working smarter in a more efficient mobile world.
Healthcare
Using mobile technology for telehealth, healthcare providers can offer their patients convenience, choice, customization, and control using remote digital healthcare services.
According to the American Telemedicine Association, more than 15 million Americans received some kind of medical care remotely last year. Regardless, 40 percent of tech-savvy consumers have not heard of telemedicine (seen in a study done by HealthMine).
With mobile devices becoming a standard delivery channel for personal fitness apps, the healthcare industry has tremendous opportunities for preventative health mobility solutions.
Regardless of business type, the opportunities mobile solutions can create are infinite. So then, why isn't every business focusing on enterprise mobility?
In our years of experience helping companies with enterprise mobile application development, we've discovered the same pain point:
They don't know where to begin.
The idea of incorporating mobility into your company's technology roadmap can feel daunting without the right expertise.
I'll show you how to develop an effective enterprise mobility strategy, helping you succeed during your digital transformation journey.
Let's uncover the steps for successfully developing enterprise mobile applications.
---
Key Steps for Your Enterprise Mobility Strategy
Mobile technologies are advancing at a rapid pace and disrupting almost every industry.
It is challenging to forecast advancement in mobile technology and the solutions your business might need a few years from now. However, if done right, your enterprise mobility strategy can easily scale according to the changing technology landscape and growing business needs.
An enterprise mobility strategy should be a large piece of your overall enterprise technology roadmap.
Your overarching mobility strategy goal should be to improve business operations for both your customers and employees.
Click To Tweet
This goal can manifest in a number of ways:
Increasing market share
Improving staff productivity
Reducing operational costs
On-the-go accessibility to information (both client and staff-facing benefits)
Multi-channel collaboration
Creating differentiating value
Levelling the competitive landscape
The following six steps are critical to any successful enterprise mobility strategy.
1. Define Your Business Needs
Your enterprise mobile initiatives can lead to solving a business problem, finding new customers, helping enter into a new market, or creating a new segment. Understanding your company's strategic goals, key performance indicators (KPIs), and growth opportunities in your sector can help define your business needs.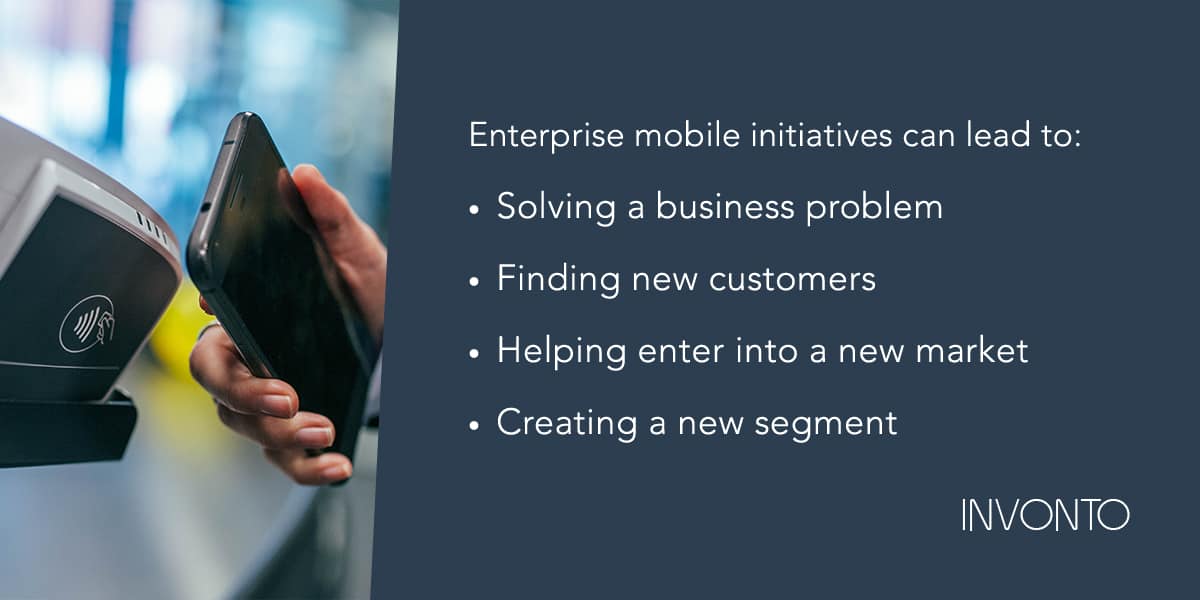 Ask yourself:
What are the enterprise mobility trends in your industry?
What are the core products & services of your business?
Where do you see your business in 3, 5, and 10 years from now?
What are some of the bottleneck areas in your business?
Who are your customers?
How do you currently serve your consumers?
Keep in mind that your enterprise mobility strategy is not an extension of your company's digital strategy. Furthermore, it doesn't replace your other technology initiatives.
Consider your enterprise mobility initiatives as a part of your overall technology eco-system. Mobility solutions may not necessarily be the answer to all your business needs. With that in mind, spend some time identifying gaps that your mobility strategy can fill.
Oftentimes your employees and your customers may experience the same "gap" from different perspectives.
Click To Tweet
For example, a popular restaurant chain integrated delivery tracking into their mobile app. This fills the "Where is my driver?" gap for both the business and the customer.
Here's how:
Business: The in-store employee no longer has to field calls from customers wondering where the driver is, or make outbound calls to the driver to obtain his ETA. Using mobile geo-location tracking, a driver can easily be located. Imagine the combined results from streamlining processes and improving customer satisfaction.
Employee: Drivers can now optimize their delivery route and automatically send status back to the store. This eliminates the need for them to call the store after a delivery was completed.
Customer: Now, the hungry customer can see their meal get closer with a simple tap. By providing this visual feedback, customers can watch the delivery happen in real time. Knowing when their food will be delivered eliminates the frustration of wondering when, and helps customers anticipate how long it will take when ordering food for delivery.
This is one example, showing why identifying your business, employee, and customer needs is very important for a successful enterprise mobility strategy.
These questions will help you further:
How does your client buy or receive your product or service?
When during the buying process do customers interact with employees?
How in the customer service process do customers interact with employees?
Can you turn a bad or basic customer experience into a great one? Take it a step further: Can you turn a good customer experience into a great one?
What solutions will help you better serve your consumers and increase the number of customer touch points?
In what ways can a mobile solution boost employees' productivity and happiness by streamlining business processes?
What mobility solutions can help to transform your business or take it to new heights?
---
2. Conduct Research and Perform Competitive Analysis
Once you identify the ways in which mobile solutions can serve your business, then it's time to understand what the competitive landscape looks like.
Select a minimum of three competitors to analyze based on your business objectives and industry trends.
If your competitor is a new player in the industry, understand how they may be offering mobility solutions that lead to industry disruption.
Click To Tweet
First question:
What mobility solutions have your competitors built for their employees and customers?
You may only be able to collect concept-level information from your research online, and reviewing apps in the app store directory. As has been noted, many customer features are inherently filling business-related gaps. You can put the pieces together!
Answer these questions to fine tune your enterprise mobility strategy:
Will this app solve any problems for your business, or will it help you create value for your business?
What takeaway do you have from the feedback your users are providing?
Will you have to change your existing business processes for this app?
Do you have the required technology infrastructure and technical skills for building this app?
How are your competitors marketing their app?
Next, create a competitor analysis spreadsheet and document your research. This will help as you move to the next phases of your mobility strategy.
If none of your competitors have built any mobile apps—you have a great opportunity to be an industry leader!
---
3. Set Strategic Goals and Objectives
While the first two steps help you identify your needs, this step will help prioritize those needs by setting your goals and establishing objectives.
Important questions to ask:
Which apps will have the most impact on your business, employees, and users?
How ready is your business for these apps?
Is mobility the right channel for delivering the solutions needed for your business?
Next, your long-term implementation objectives relate to usage and scalability. In addition to the day-to-day usage, you'll be gathering endless amounts of data.
Consider these additional questions:
What new opportunities will your mobile app solution create? (See Step 1)
What metrics will you use to determine a return on investment (ROI) from all opportunities attributed to the app?
When and where can you use the data collected by mobility solutions for further operational improvements, increases to ROI, or entrances to new markets?
How can you ensure the app will scale as your business grows?
How frequently will you need/want to update the app's design and features?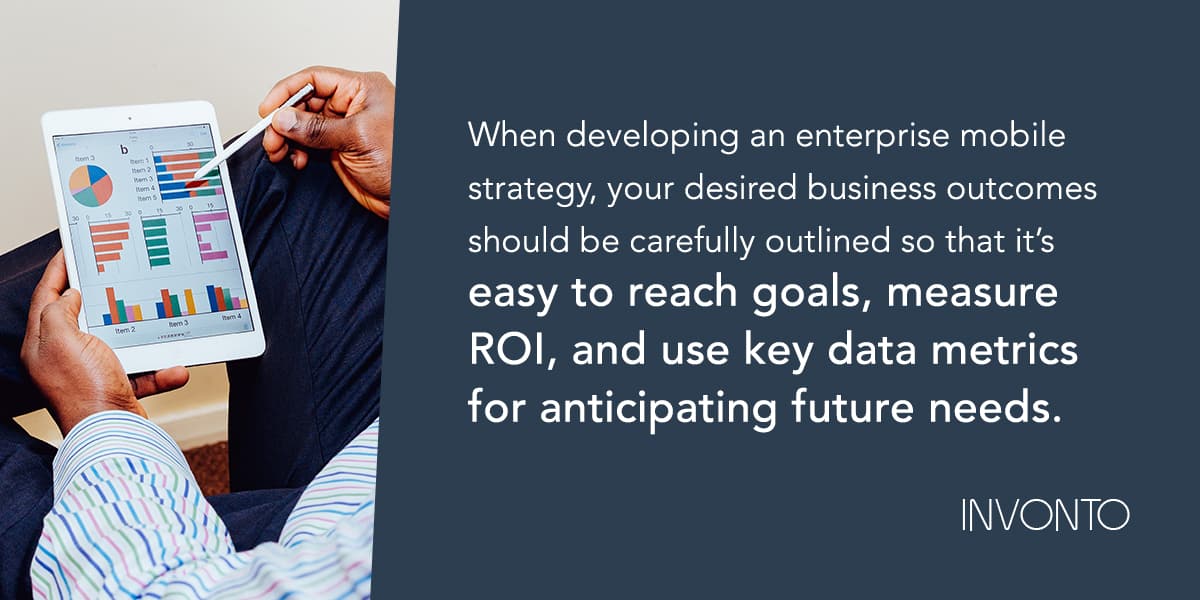 Take as much time as you need to drill down into your goals and objectives. Your desired business outcomes should be carefully outlined so that it's easy to reach the goals, measure ROI, and use key data metrics for anticipating future needs.
---
4. Choose the Right Mobile Experience and Platform
People often think that developing an app for mobile is same as developing a web app, but just for smaller size devices. However, that is not the case.
Ultimately, mobile apps are supposed to deliver users unique experiences and functions that are custom-tailored for mobile platforms.
There are two approaches for delivering mobility solutions:
Mobile App (also referred to as Native Mobile App)
This solution is a software application built specifically for a mobile OS platform which users are required to download from the app store onto their mobile phone and tablet.
Mobile Web
This solution refers to the websites (including web/cloud apps), that are accessed from a browser on the mobile device. In addition, they automatically get resized to fit nicely on mobile phones and tablets.
Below, see a comparison of both approaches.
| | Native Mobile App | Mobile Web App |
| --- | --- | --- |
| App Development Process | If you need your app to be available on iOS and Android mobile platforms, you will have to develop native mobile apps for each one. You will also have to customize each app for supporting different device types (phone, tablets and phablets). | A mobile web app is essentially a web site that is accessible from a browser on the mobile device. By using responsive design, existing and new web apps can be made mobile-friendly. Mobile web apps works across all mobile platforms and device types. |
| Skill Requirements | Since each mobile platform uses its own technology stack, you might need multiple developers with development skills specific to each mobile platform. | Your web development team will build and support your mobile web apps, so you will not have to invest into new development resources. |
| Infrastructure | With native mobile apps, you may have to make additional investment into procuring mobile devices, mobile device management solutions—and figure out governance policy. | Your users can continue to use their own mobile devices. And, even if you are providing them with mobile devices, you can keep all users on the same mobile platform. |
| Accessibility | Native mobiles apps will have full access to device firmware and native functionality, providing endless capabilities to the app developers. | Mobile web apps will not be able to access some of the device functions such as push notifications. |
| Network Dependency | Native mobile apps can have offline working capability, which can be beneficial if users are often working from areas with little to no internet connectivity. Native apps can detect network connectivity and sync with the server back-end when connection resumes. | Mobile web apps require internet connectivity for accessing website features. |
| Performance & User Experience | With a native mobile app, you can customize and personalize user experience specific to each mobile platform. Native apps can run faster and more efficiently—making the most of capabilities of a mobile OS and device hardware. | Mobile web will have the same user experience across all mobile platforms and device types. This often becomes a limitation, since users expect app user experience customized to their mobile platform. Speed and performance of mobile web apps will be somewhat dependent on network bandwidth and device functionality that the app is dependent on. |
| App Support & Maintenance | You may have to update your app with the release of a new version of mobile OS or mobile devices. | Mobile web apps do not get affected as much by advances in mobile technology. Therefore, you do not have to update your app as frequently. |
In a nutshell, native mobile app will probably cost you more but delivers the best user experience. Companies with existing web-based solutions often find mobile web approach a less expensive and quicker way of introducing mobility solutions.
Now, when it comes to choosing the right mobile platform for a native app, you're really choosing which device your app will work with—iOS (Apple) or Android.
It's likely that you need an iOS app as well as an Android app.
It is better to choose a mobile platform based on the demographics of your target users. 
It is better to choose a mobile platform based on demographics of your target users.
Click To Tweet
This will shorten your overall delivery timeline, cut down on your initial investment, and give you an opportunity to perfect the app for users on one mobile platform before expanding the solution to a second platform.
Choosing the right mobile experience and platform is essential to the success of your enterprise mobility strategy. Once you make this decision, it can be difficult and costly to reverse it.
These questions will guide you in the right direction:
Who are the primary end users of your app?
What devices will be used?
Will your company provide mobile devices to the users (especially to the employees for your enterprise app)? Or, will you allow users to use their own mobile devices?
What mobile platform will your app support: iOS, Android, or both?
What device type will your app support: smartphone, tablet, phablet, or all?
From where and how do your users interact with your app?
Does your app have any feature that requires access to a device-specific function?
Does your technology roadmap extend beyond mobile to offer a similar solution for web/cloud users?
Often platform discovery leads to separating your app's requirements into multiple solutions, delivered as a combination of both native mobile app and mobile web app.
---
5. Create a Plan for Continuous Delivery
There is fierce competition for market share between iOS and Android. As a result, this has led to rapid advancement in mobile technology, with new versions of mobile platforms and new mobile devices getting released every few months.
Agility is very important for your enterprise mobility strategy.
While you may have a strategic outlook spanning multiple years, your mobile apps require frequent updates and releases with shorter development cycles.
This is where enterprise mobile app development diverts drastically from traditional web app development. Enterprise brands seeking to be mobile native may need to revamp existing development and deployment methodologies in order to keep up with rapid mobile solutions delivery.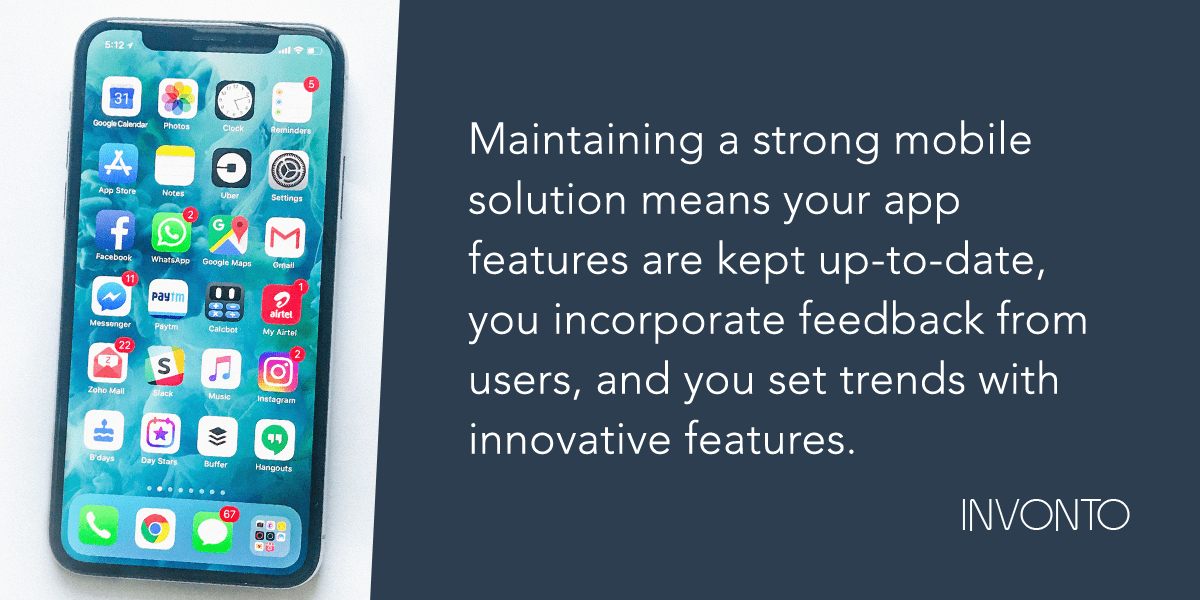 In addition, maintaining a strong mobile solution means your app features are kept up-to-date, you are incorporating feedback from users, and setting trends with innovative features.
Since most data-driven mobile apps rely on application programming interfaces (APIs) for interfacing with the server back-end and databases, having a strong API infrastructure will aid in the scalability, interoperability, and maintainability of your mobile apps.
These questions will help you create a successful agile development plan:
What apps and features will be of most value to users?
Can you prioritize your app features in high, medium, and low categories?
What new services will your business be introducing in the coming years?
How frequently can your team release updates for your mobile apps?
Can you ensure continuous delivery on the back-end for supporting mobile app development plan?
Once you figure out how your milestone-based agile development plan looks, create a product roadmap for incorporating it into your enterprise mobility strategy.
---
6. Outline a Security Strategy and Incorporate Governance Policy
Last and certainly not least, you must thoroughly outline your security needs and internal governance policy.
Your governance policy should address:
development processes,
device provisioning
data access & security
interruption coverage / disaster recovery
mobile application management
ongoing infrastructure improvement needs.
Depending on the size of your organization, you might establish a governance team representing each department affected by mobility solutions.
The following questions will help you establish a good governance policy:
Who are the different stakeholders/personnel involved with your mobile initiatives?
What BYOD, CYOD, and COPE device policy will you need?
How will you secure your APIs?
What security solution will you use to ensure data security?
How will your app users be authenticated (SSO, OAuth, OpenID, Fingerprint, Facial Recognition, 3rd party credentials)?
What development and deployment process will you follow?
Will your apps have role-based access? Do you have the required identity management systems in place?
What parameters will your app testing cover: usability, functionality, performance, security?
How should your app users be notified of new releases?
What industry-specific compliance measures do you have to consider?
How will your customer service and product tech team interact with users for product support?
What steps do you need to take in the event of a service interruption?
Remain consistent across your business in enforcing the mobility governance policy.
As shown above, providing IT with proactive empowerment will help safeguard your business and your employees.
---
Conclusion
Developing a successful enterprise mobility strategy requires a lot of planning and alignment within your organization. But, it can become a cornerstone of your company's digital transformation journey.
Prepare a strategy that's right for your business in six steps:
Define your business needs
Conduct research and perform competitive analysis
Set strategic goals and objectives
Choose the right mobile experience and platform
Create a plan for continuous delivery
Outline a security strategy and incorporate governance policy
Enterprise mobile solutions will deliver significant ROI for your business including:
Increasing market share
Improving staff productivity
Reducing operational costs
On-the-go accessibility to information (both client and staff-facing benefits)
Multi-channel collaboration
Creating differentiating value
Leveling the competitive landscape
What goals do you want to achieve with your enterprise mobility strategy?
We'd love to hear from you. Leave your questions or comments below!
One response to "How To Develop A Successful Enterprise Mobility Strategy"