What is Digital Transformation?
Digital transformation is the implementation of modern technology to spark radical change within an organization. While technology is an important aspect of a digital transformation strategy, it isn't the only factor. Digital transformation requires industry leaders to rethink their business strategies and operations to transform their business for continued growth. By introducing a business transformation strategy and implementing technology solutions, businesses can expect to see growth in employee satisfaction, customer engagement, and business innovation.
Many companies like Walmart, Stubhub, Marriott, and Domino's Pizza are already implementing digital transformation methodologies and seeing dramatic results. In fact, a report from McKinsey, reveals that companies worldwide will spend $2 trillion on digital technologies by 2020.
Future-minded businesses are in a unique position to benefit from launching new digital initiatives. Through digital business transformation, enterprises can offer exceptional and personalized experiences to their customers and employees, which will lead to improved brand loyalty, customer retention, and increase revenue.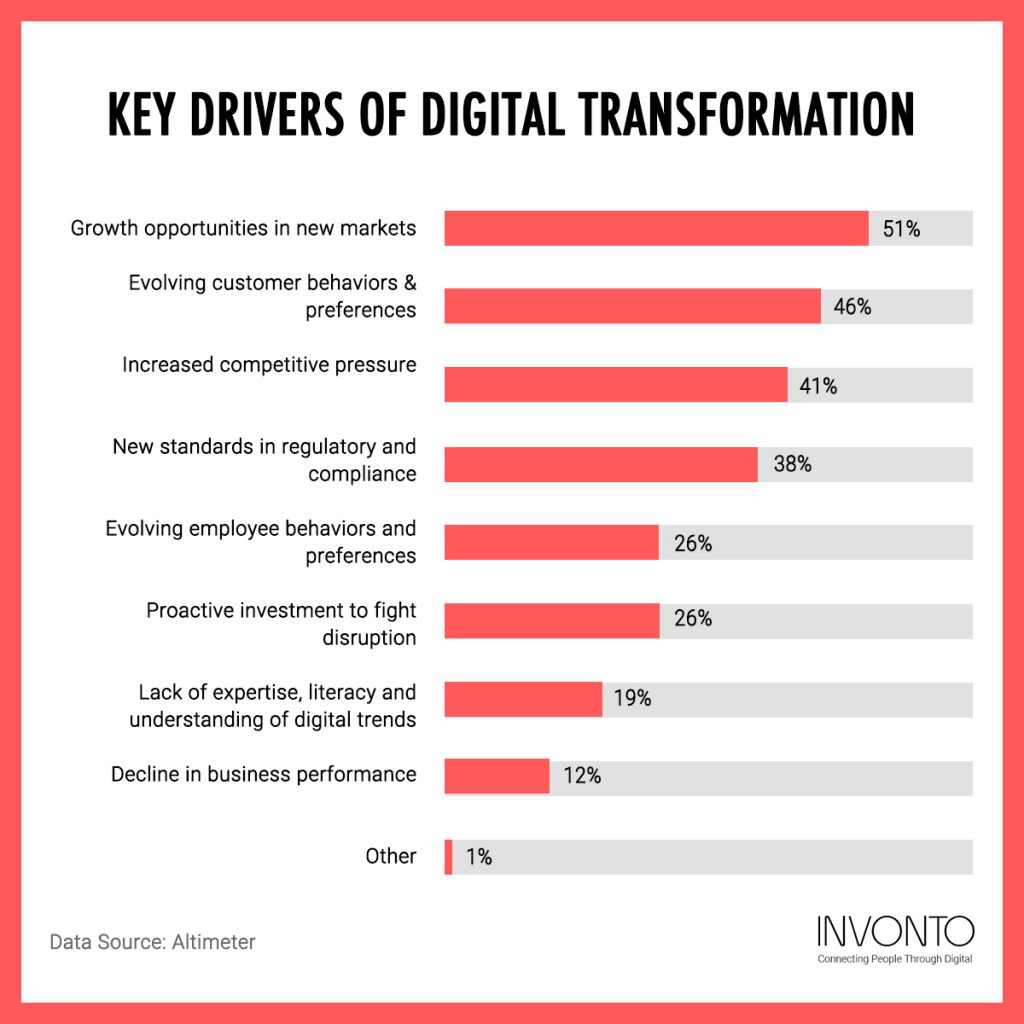 What Drives Digital Transformation?
A successful digital transformation starts with a well-defined strategy that prioritizes initiatives, sets goals, and identifies the criteria for success. Done right, digital transformation solutions can provide numerous benefits that will make the transition worth the time and effort. No matter what industry, most companies will focus on one or more of these key areas:
Customer Experience
The success of every business is heavily dependent on the customer experience. When customers are not satisfied with a product or service, they leave. By using modern technology, businesses can enhance the customer experience and improve customer loyalty and retention.
Employee Performance
While improving the customer experience will always be a part of digital transformation, businesses shouldn't forget to look inward. Digital initiatives can address aspects of your business including employee satisfaction, skill advancement, employee performance, and work collaboration. Providing employees with the tools to communicate,  collaborate, and connect will increase productivity for greater business success.
Data Analytics
Digital transformation can also be driven by a desire to better understand your business. Data can provide businesses with valuable insights to inform future business objectives,  products, and services. Most companies operate on paper-based processes. Companies who collect data have not taken steps to combine and analyze that data. Businesses who are able to analyze their data sources will gain insight to build smarter companies that make better decisions.
Gaining a Competitive Advantage
Businesses who rely on legacy systems and outdated technology risk losing their competitive advantage. Customers are growing more and more demanding. To meet those demands, businesses must evolve. Digital transformation allows you to operate more efficiently, grow your customer base, and find new business opportunities.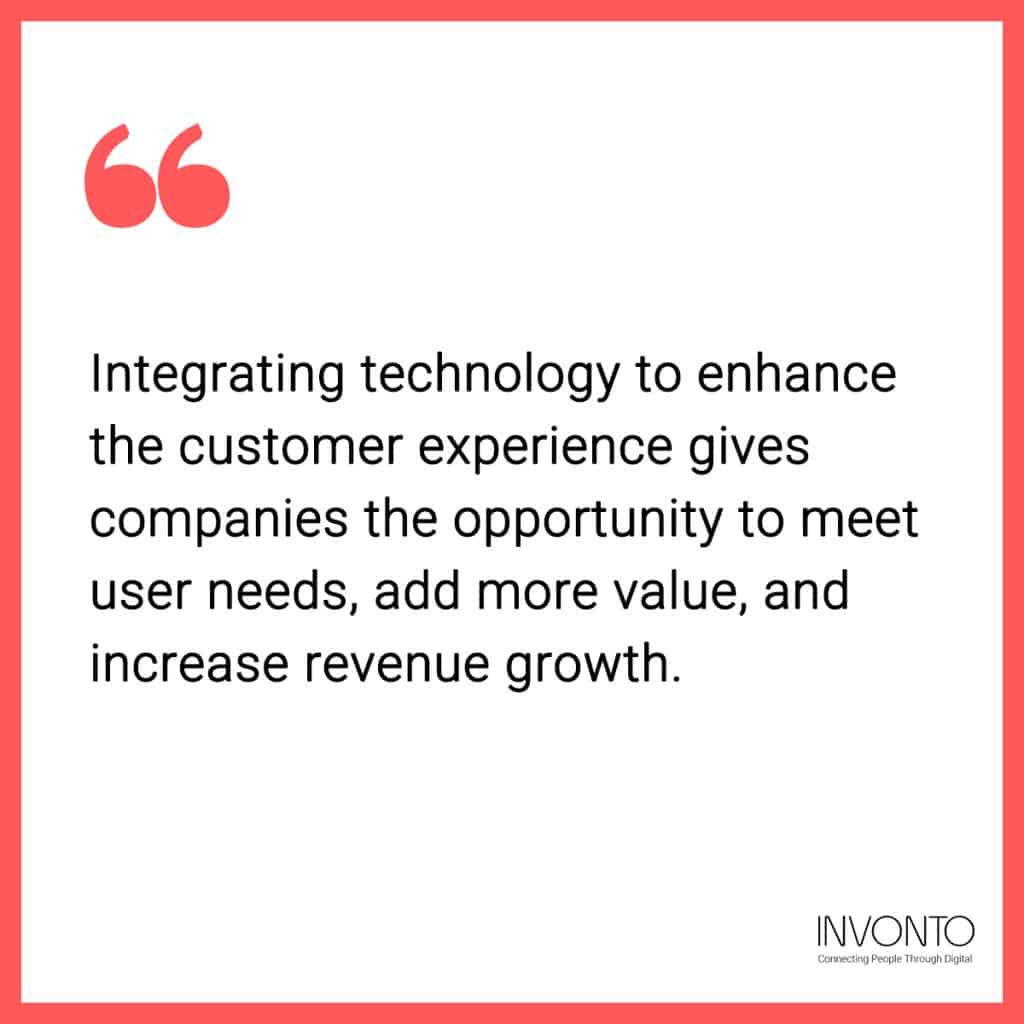 What Technologies Power Digital Transformation?
Over the last three decades, advancements in hardware, software, and networking have made it possible for any business to implement digital solutions. Whether a business is interested in improving their customer experience, driving employee performance, analyzing data or achieving innovation, they will most likely rely on one of these technologies.
Cloud Computing
Companies are moving from legacy systems to cloud-based applications that offer flexibility and scalability to meet business demands. Some popular business cloud applications include Google Drive, Office 365, Salesforce, and Slack. When these apps don't meet business needs, companies rely on custom solutions.
Mobile Applications
Today, users spend more time on their mobile devices than ever before. In order to attract these customers, businesses must invest in mobile app development to build products and services that can be accessed easily through a mobile device.
Artificial Intelligence
Artificial Intelligence (AI) has become a crucial part of business growth by providing companies with the ability to mimic human intelligence. Businesses who have properly gathered business data can utilize this data to create personalized experiences, predictive maintenance, process automation, and much more.
Internet of Things (IoT)
The internet of things (IoT) connects people, equipment, and data to enable process automation. One of the most common IoT devices are voice assistants like Amazon Alexa. However, the internet of things presents businesses with incredible opportunities to streamline workflows and improve existing products.
Augmented and Virtual Reality
Augmented reality (AR) and virtual reality (VR) offer more immersive opportunities to businesses and its customers. Businesses can us AR/ VR to develop training simulations, 360 walkthrough, field service tools, customer engagement tools, and collaboration tools. The benefit of augmented and virtual reality is their ability to fully immerse users in an experience yielding dramatically better results than currently existing tools.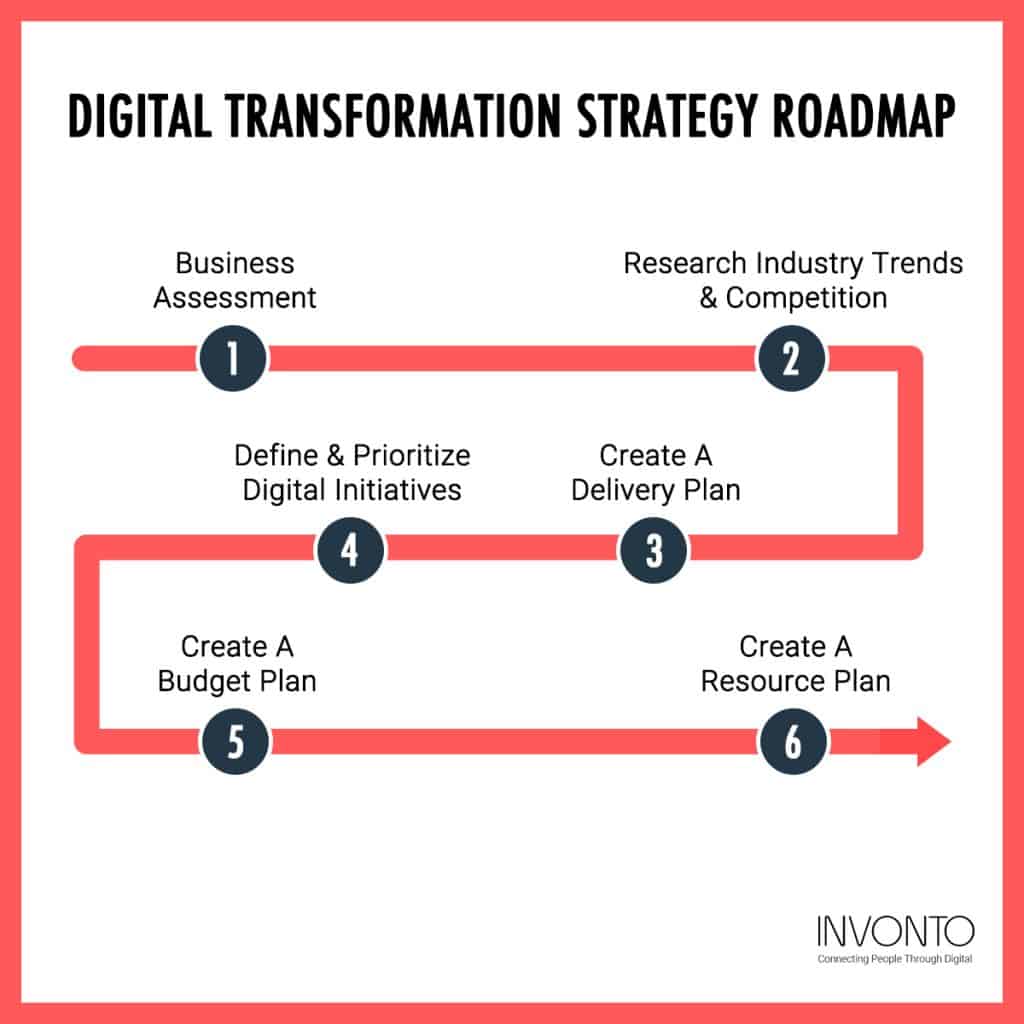 How Do You Build A Digital Transformation Strategy Roadmap?
A digital transformation strategy is a high-level document outlining your business objectives and digital initiatives. When developing this document, it is important to keep these steps in mind.
6 steps for creating a successful digital transformation strategy
Business Assessment

Your digital transformation strategy should begin with a detailed assessment of your current business. This initial assessment should include your strategic goals, key performance indicators, and potential growth opportunities.

Research Your Industry and Competitors

After assessing your business, it is important to understand how you compare to your direct competitors and your industry. Are your competitors in the midst of their own digital transformation? What digital solutions are they working on? What new technologies or tools are being implemented within your industry? A competitive analysis will help you understand the market and identify opportunities to build a thriving business.

Prioritize Digital Initiatives

Each digital initiative will be different in scope, resources, and return-on-investment. Prioritize your initiatives based on their value, impact, and estimated effort. Start with simple projects with essential features to test your digital solution's viability.

Create a Delivery Plan

The delivery plan should include a roadmap for each digital initiatives, resource requirements, and criteria for measuring results. Before beginning the development stage, identify all development and delivery processes to build standard practices for your entire organization.

Create a Budget Plan

Most digital transformation efforts fail because of insufficient budget. When you create your budget, anticipate delays and plan for when new technology makes current investments obsolete.

Create a Resource Plan

Technology is not your only cost. It is crucial to assemble a team with the right skills and mindset to put your strategy into action. Conduct an assessment of your current capabilities and who you need to achieve your digital initiative.
How Can You Lead Your Team Toward Digital Transformation
Your digital transformation strategy will affect your employees, customers and partners. The success of your transformation is dependent on earning buy-in from your team. To get full support, you'll need to take a few additional steps.
Establish Digital Leadership
To oversee your digital transformation team, you will need to appoint a reliable leader. Sometimes this can be fulfilled by a current employee. Other times, you may need to introduce a new role such as the Chief Digital Officer. A CDO will be responsible for overseeing strategy and execution of your digital initiatives.
Getting Your Team On Board
To see the benefits of digital transformation, the team needs to understand the impact of digital adoption. Instill a digital culture within your organization to educate them on the upcoming changes. Seek input from employees to define your digital initiatives and include them throughout the process. With the full support of your team behind you, you can focus on developing digital solutions that will benefit them and your customers.
Cultivate a Culture of Innovation
Companies that place too many restrictions on the process of innovation will only hamper creativity. Give employees the freedom to ask questions and offer feedback. Organizations should encourage their teams to experiment and test various technologies throughout the process.
Make Better Decisions With Data
Your digital transformation should begin with data. Data can be used to help make your decisions and validate experiments throughout the digital transformation process. Data can also help earn the support of your peers.
Invest In Employee Training
Sometimes employees may push back on digital transformation because of how the changes will affect their position. Digital transformation may cause their job to become obsolete or drastically change their responsibilities. You can retain your employees and earn their support by offering training opportunities. By educating employees, you can expect improved consistency, business efficiency, and employee satisfaction.
Which Companies Are Leading Digital Transformation Strategy Today?
Now that we have explored the concept of digital transformation, how does it look in practice? Fortunately, there are already several great business transformation examples we can learn from.
WALMART
After seeing the threat Amazon posed to smaller retailers, Walmart is positioning itself as a worthy competitor by improving front-end and back-end technologies to drive efficiency. The retail brand entered a five-year deal with Microsoft to focus on digital advancements and technology upgrades that deliver pristine customer experiences. They introduced scannable employee badges to help employees quickly access critical store data. Walmart utilized virtual reality training simulators to educate new and current employees as part of their digital transformation strategy. They also launched grocery curbside delivery which has boosted sales 37%. Some of Walmart's ongoing projects utilizing autonomous vehicles, blockchain technology, and robotics to further improve their stores and their customer experiences.
STUBHUB
StubHub decided to focus on improving their customer experience. To meet customer needs, they invested in cloud solutions to improve the online buying experience. StubHub optimized their website to reduce load times. They also developed a mobile application that offered a seamless buying experience. The app included a webVR feature that could show users the view from their seats in real-time. The renewed mobile app and website experiences resulted in an increase in sale.
MARRIOTT
Marriott is combating industry disruptors like Airbnb by leveraging digital solutions to create memorable customer experiences. Marriott developed a mobile app with new features to improve convenience and deliver services. The mobile app allows customers to check-in to their hotel, accept service requests, and even unlock the hotel room door.

CONCLUSION
Digital transformation strategy is less about technology and more about your business strategy. It's about your people, process, and data. Digital transformation is not an overnight change. But by building a strategic roadmap and starting with small changes, you can slowly start transforming key areas of the business and eventually be successful in meeting all objectives. In the digital age, the only way to survive and grow is to embrace digital.
Interested in learning more about enterprise digital transformation? Invonto provides digital transformation consulting and technology consulting services for U.S. businesses. Contact us today for your free digital transformation consultation.