On March 29th, we had the pleasure of attending Venture's A Pitch. Hosted by NJ Tech Council, this local event was designed to educate and inform entrepreneurs and executives of New Jersey tech companies on how to raise money for a business venture.
The meeting began with a Q&A with prominent figures in the VC space including Deborah Zajac, Director of Touchdown Venture; Wayne Tamarelli of AWT Private Investments; and Steve Socolof, Managing Partner of Tech Council Ventures. What followed were several workshops covering topics such as intellectual property, pricing software products, and branding. To conclude the meeting, we heard practice pitches from New Jersey businesses and some thought-provoking feedback from a panel of judges.
We learned plenty on how to raise capital for a startup during our brief experience. We wanted to share those lessons with any startups currently seeking to raise capital for their business. Here are 6 important takeaways for startups looking to raise capital.
1. Your product must solve a problem
One lesson reverberated throughout each practice pitch: solve a problem. Often times, we come up with grand ideas and rush to implement and promote them. After months of development, we are discouraged that our money-making idea falls flat. The first thing to ask yourself is whether your solution solves an important problem. The participating VCs urged attendees to incorporate a problem-solution dynamic in their pitch. If a problem is not clearly defined, it will be difficult to convince a VC, your team, and most importantly your customer why your solution should matter.
2. Your product should offer an (obviously) better solution
During the meeting, many businesses were offering products and services that already have a solution. There is nothing wrong with entering a market with a few key players, but it is crucial to state exactly why your solution is better than any pre-existing solution. When developing your product or service, you must clearly explain why your solution is considered a better option. According to the VCs, this can be accomplished by explaining why your product is unique and by sharing key data metrics that help your product stand out.
3. Your name matters…a lot.
Selecting your product name is one of the most important decisions you'll make when you start a new business. It creates a first impression with customers and investors and can set the tone for all future initiatives. Tech companies like Google, Adobe, and Facebook have invested time and money into developing a unique name and a brand to support that name. "Internet Search Engine USA Analytics" hardly rolls off the tongue. However, Google Analytics, Adobe Photoshop, and Facebook Messenger sound great!
Choose a name that is simple, unique, brand-friendly and explains what you do. Once you have a list of potential names, do some competitive research. You'll want to see if any competitors in the space are already using the name. You will also want to ensure that you can secure a consistent name for your website domain and social media handles.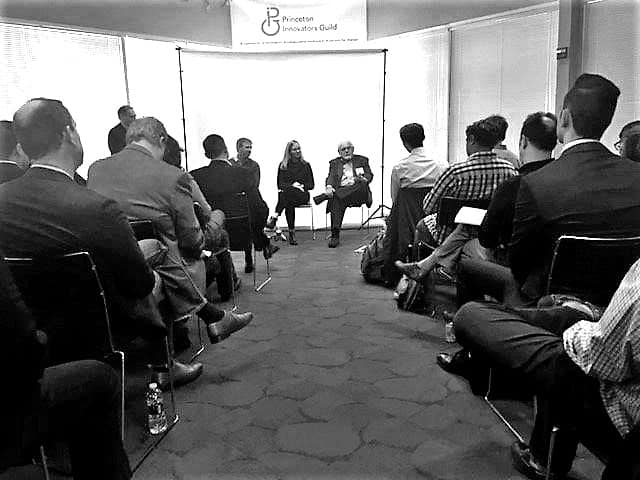 4. Your business needs to scale
There are plenty of great ideas out there with a plethora of untapped potential. That doesn't mean that every idea is worth pursuing. When speaking with investors, they will want to know how scalable your business is and the overall size of the market for it. Business growth depends on a scalable business model that will increase profits over time without incurring more costs. With lower capital requirements, your business will be more efficient and look more appealing to eagle-eyed investors.
5. Your business needs protection
It's not enough to create a name and start developing a product. You will want to defend your business from others interested in "borrowing" your ideas. Your business will have a wealth of intellectual property (IP) that needs to be protected.
During one workshop, we discussed the different types of IP and the advantages of each one. Patents protect inventions while design registration protects their look. A registered trademark protects brand names, logos, original sounds and scents, and even aspects of packaging.
Conversely, you will want to make sure your idea isn't infringing upon any pre-existing trademarks, patents, etc. It is important to get professional advice from a copyright attorney as soon as possible.
6. Your business needs your passion and a good team
During the practice pitches, it was easy to see which entrepreneurs were fully invested in their idea and their business. The passion you bring to a pitch will often influence audience reception and can be the differentiator between you and someone with a similar business idea. Passion is an intangible that drives entrepreneurs to success. Passion can motivate you when times are rough and can inspire startup ideas. Besides, having a good team is equally important for VCs. A strong team ensures the success of the business and makes it more attractive for a potential exit.
Raising Startup Capital Successfully
If you want to continue to grow, you are most likely looking for ways to raise capital for a company. While small business loans and crowdfunding for business are good options, you will need to raise venture capital. We encourage you to seek out opportunities to meet with similar growing businesses and venture capitalists. Events like those hosted by NJ Tech Council offer a means to connect and learn from other entrepreneurs just like you.
If you are looking for additional feedback on how to raise money for a startup please don't hesitate to contact us. Invonto offers software consulting and development services for the established enterprises as well as the startups with innovative ideas. By partnering with Invonto, we will help you develop an MVP and build your vision at the fraction of the cost.