In 2020, many companies have accelerated their digital transformation initiatives to automate operations, improve customer experiences, and implement new business strategies. Companies that continue to invest in their digital transformation also consider outsourcing app development to app development companies instead of hiring in-house app developers or freelance app developers. App development companies offer expertise, flexibility, and support that a business requires for creating turn-key solutions.
Every company interested in outsourcing app development projects will have several immediate questions. How much does it cost to create an app? How long does it take to make an app? What technology stack should we use?
These are all incredibly important questions in the discovery process, but it is safe to say the most important question always is: Who will you hire to develop your application? When outsourcing to an app development company, businesses must make a crucial decision that could drastically influence the outcome from the app development process. Should you hire a local app development company or hire offshore app developers?
Over the last decade, Invonto's app development team has developed many successful enterprise applications for the clients across the USA. We have also assisted companies that started projects with the offshore app developers and later decided to reshore their projects. In our experience, local app development companies like Invonto offer a lot of value and often the total cost of ownership for a project ends up being lower than offshoring. Even if you research the development history of the many popular apps; such as Uber, AirBnB, Facebook, Robinhood, Snap; you will realize that all of these apps were built in the USA.
Many years ago businesses chose offshore companies for business process outsourcing. Calling centers for customer service were one of the initial business units that were outsourced. Because application development can require significant time and financial investment, eventually offshoring software development became a method for businesses to save on labor costs. While many companies are attracted to the perceived value of offshoring, a closer look reveals that companies have lower overall costs of building digital products when they hire a local app development company.
There are many benefits that you receive when you outsource app development to a local app development company like Invonto.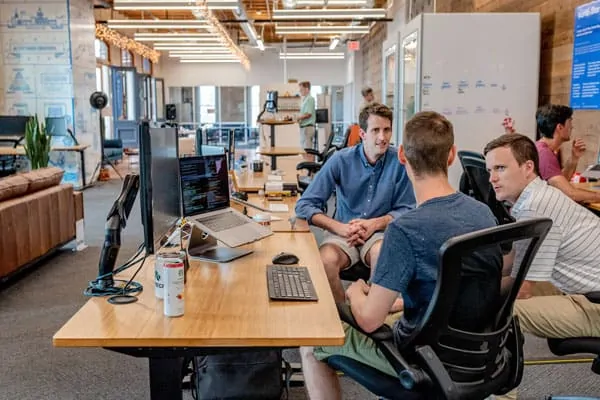 Local App Developers Offer Better Value
The cost of app development isn't simply the hourly rate you pay for an app developer. There are many other factors that contribute to the actual costs of developing an app. This includes management overheads, quality issues, technology debt, time delays, opportunity costs, and loss of intellectual property. Some of these factors are not visible and apparent to the companies that outsource app development. These factors are not prevalent in the local app development companies, but companies outsourcing app development to offshore developers experience this routinely. The performance quality of offshore companies varies greatly, especially when compared with U.S. based app development companies. You will run the risk of incurring additional costs due to project management overheads, a lack of subject matter expertise, quality issues, and a lofty development process. These can delay the project timeline, negatively affect application performance, and cause unneeded frustration.
Rather than seek out the least expensive quote, focus on choosing a partner who meets your project's specific needs. Ask questions to understand their development process in detail, meet with their team, and request case studies that demonstrate real value. The process to verify information becomes easier when you limit your potential partnerships to local app development companies. You can meet in-person, get a hands on look at past projects, and get a better understanding of their app development process.
Local App Developers offer unparalleled expertise
App development is not limited to just the programming. App development involves a step-by-step process going through strategy, requirements gathering, user experience design, programming, and QA testing. You need a team that has proven expertise in delivering successful apps from the ground up. App development often requires researching the competitive landscape to ensure your application offers unique benefits to the customers. App developers also require certain domain expertise to thoroughly define application requirements. For local app developers this comes naturally due to their local exposure and broader experience.
It may feel like finding local talent can be a tedious task, but there are a wealth of resources to find the right skill sets for your project. The United States provides plenty of educational programs focused on software and application development which helps the United States stay ahead of other countries in technology and innovation. Businesses invest into further nurturing and developing employee skills producing a large pool of highly skilled developers. Search for any development skill on LinkedIn, Apps Inc, and Indeed and you'll find a huge pool of skilled app developers in the United States. Local app developers offer unparalleled expertise not only in their technical prowess but they also excel in understanding business requirements and goals, experience with the latest technologies, managing product lifecycle, and communication with stakeholders.   
A real partnership that is not battered by time zone differences
A common issue outsourcing app development to offshore app developers is the time zone difference. There can really be a day and night difference between both parties which can cause production delays and strain the communication process. The ability to turnaround work quickly is crucial when you intend on meeting stringent deadlines. It is also important to note that offshore businesses may still focus on earning business locally. This could mean that their focus is split between supporting their local business and managing your project. As a result your project may be deprioritized in favor of local companies.
When you hire locally, you enter a partnership that is more transparent and personal. Time Zones will have a limited effect on your project and any bumps in the road can be quickly mediated through an email, phone call, or in person meeting. For example, Invonto partnered with Merck to assist them in developing a virtual reality application. During the process, there were several instances where proximity to each other's offices was vital in the development and testing phases of the project. Invonto met with Merck stakeholders to test out the virtual reality application and gather useful feedback. This enabled Invonto to deliver the final product in under two months even with an increase in the project scope! Had we been strictly remote or had Merck decided to rely on an overseas company, this process would have undoubtedly been delayed significantly.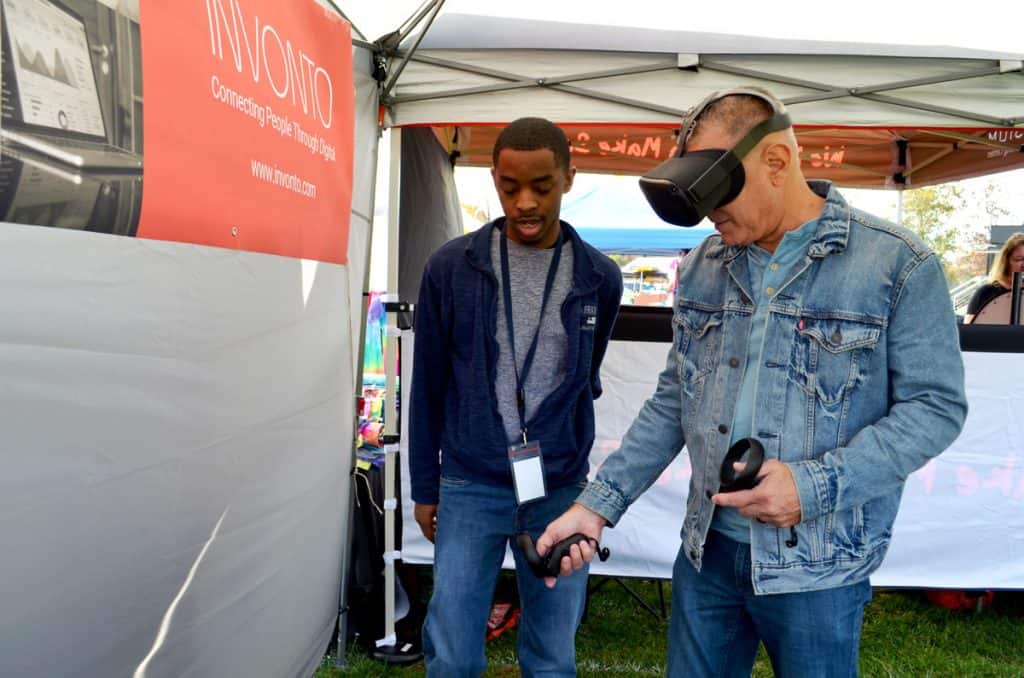 Local App Developers Support Local Communities and Economy
Local businesses are essential for supporting local communities and sustaining the local economy. Companies like Invonto employ American workers, contribute to community well-being, and participate in pushing our country forward. When you outsource software development projects to a US-based app development company, you are investing in saving American jobs and supporting our communities. Why outsource software development to a distant  and unfamiliar company, when you can support those around you especially when there are proven advantages of doing so? Hiring a local app development company offers social and economic benefits that are void when you choose an offshore company. Local app developers are also bound by local laws and so you do not have to worry about data piracy and intellectual property infringement issues. 
In 2014, Invonto had an opportunity to present at SelectUSA, an organization founded by President Obama in 2010. SelectUSA existed to facilitate job-creating business investments into the United States and raise awareness of the critical role that foreign direct investment plays in the U.S. Economy. Invonto was invited to a SelectUSA forum in Washington DC. Invonto represented the professional services industry, shared direct experience with offshoring and explained the benefits of doing software development in the U.S.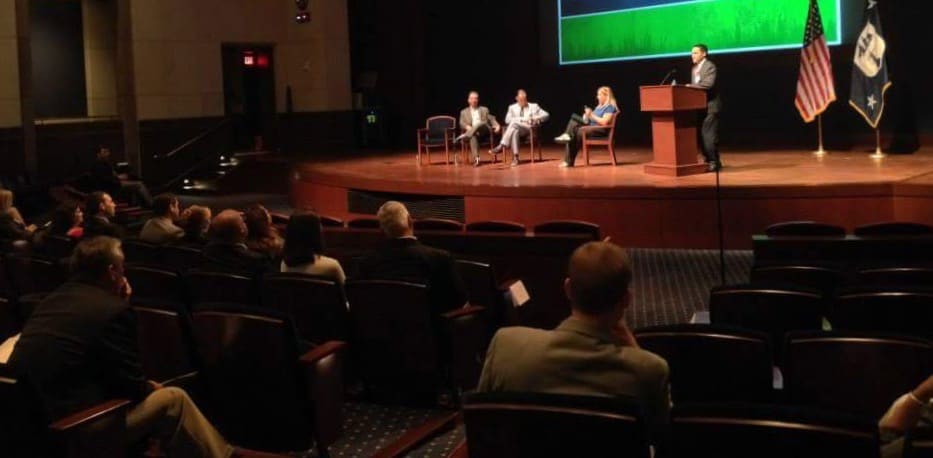 Since the SelectUSA forum, we have witnessed more and more U.S. businesses rely on local app development company like Invonto. Invonto's app developers have successfully delivered digital solutions for some of America's trusted brands and Fortune 500 companies. Companies that have partnered with Invonto greatly value American craftsmanship and have been able to deliver enterprise digital products on time and on budget. Here are a few case studies of how hiring app developers in the USA has benefited these companies:
Sealed Air, one of the leading packaging companies in the world with headquarters in the North Carolina, increased sales by 4.75% and reduced waste by 40% after transforming its packaging operations with a suite of web and mobile applications.
Merck, a global pharmaceutical company with headquarters in New Jersey, identified 23 critical changes to its construction plan after creating a virtual reality simulation of its new research lab in less than two months and with less than $100,000 development costs
D.R. Horton, top production home builder in the USA with headquarters in Texas, gained $50 million in annual cost savings from improving its operational efficiency by creating software application for managing construction projects
Epicor, a New York- based company providing retail software solutions to over 5000 retail brands, improved customer service response time by 1500% and reduced annual support costs by $12 million by creating a cloud-based remote monitoring software in just 3 months
Conclusion
Hiring local app developers has many proven benefits for the companies outsourcing app development projects — lower total cost of ownership, receiving better quality products, agility and speed in bringing products to market, investing in the local communities; are just a few of such benefits. 
As a leading US-based app development company, Invonto has proved the benefits of hiring local app developers by turning digital initiatives for its client companies into success stories. Companies like Transamerica, JF Shea, Sharp, Comcast, Star-Lo Electric, Federal Reserve Bank, l, YMCA, America's Got Talent, Columbus McKinnon, Party Rental Ltd., Intrado, Southco and many others have seen hyper growth in their business after partnering with Invonto. Get in touch with us  if you would like to learn more about how partnering with Invonto can benefit your business.