Like most industries, the healthcare industry deals with a vast amount of data. Accordingly, both patients and doctors expect instant access to time-sensitive information. The preferred method to obtain this information is by using a mobile device. According to a study from Hitwise, more than two-thirds of all health-related searches took place on a mobile device. With mobile application use and adoption continually rising, the healthcare industry is ready for disruption. Developing robust and well-designed healthcare apps can help meet the needs of patients, physicians, insurers, and healthcare suppliers across the country.
The mobile device is one of the most powerful tools available today. Current smartphone and smartwatch devices are capable of storing information and have useful features that can be utilized in healthcare apps development. For example, telemedicine apps enable patients and doctors to seamlessly connect with one another and provides the ability to share clinical healthcare. With smartwatch sensors, these mobile devices are also capable of storing critical health data such as monitoring physical activity, vital signs, and sleep cycles. The plethora of clinical data and advanced mobile features presents several ways healthcare apps can revolutionize the industry.
With our experience in developing custom mobile applications, we see mobile application use and adoption continue to increase in the healthcare industry.
Healthcare Apps Improve Access To Medical Services
Typically when setting up a doctor's appointment, patients will need to find a physician through their network and call to book the appointment. What if patients could get their annual checkup without setting foot in an office? Healthcare apps can connect patients with pre-qualified medical professionals who provide consultations for non-life-threatening health issues. Eliminating wait time, travel time, and rescheduling delays can give patients the access they need to medical services. All this will reduce overhead to make healthcare more affordable and provide an optimal patient experience.
Some health insurance companies are already capitalizing on these benefits by bringing solutions to the market. For example, medical mobile apps like LiveHealth utilize real-time video to connect doctors and patients remotely. These consultations easily resolve common ailments and can even result in prescribing medication. Utilizing this technology will increase patient intake, reduce waiting room traffic, and allows physicians to prioritize appointments without negatively affecting patients.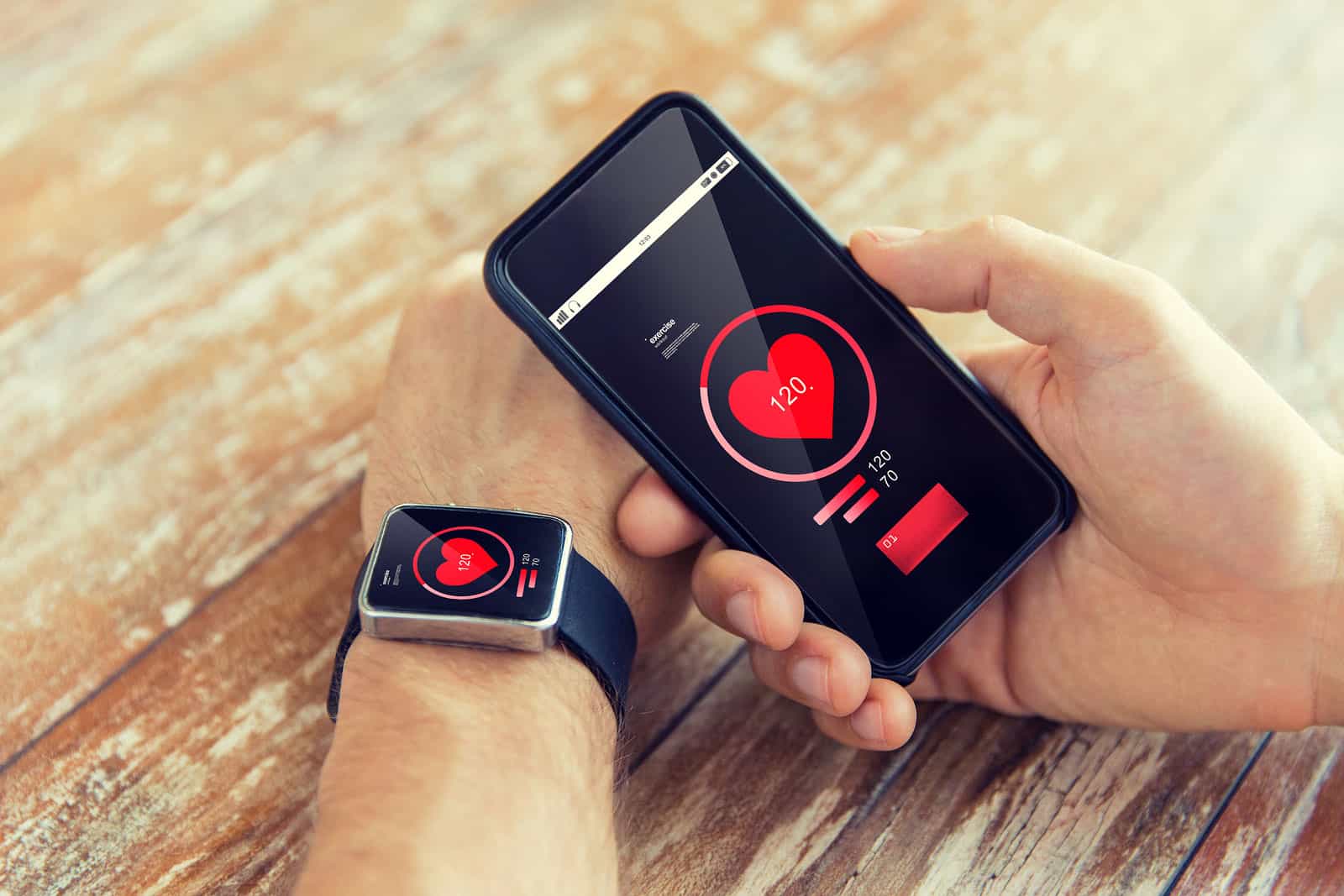 Make Better Choices With Healthcare Apps
Wearables like Fitbit, Apple Watch, or Pebble track a variety of data points related to physical activity, nutrition, sleep, and wellness. Bluetooth Low Energy (BLE) connections pair wearables to smartphones enabling consumers to instantaneous store and track health information over time.
Additionally, paired devices can track additional data points. For example, Pip uses biofeedback data to help users monitor and proactively manage their stress levels. The Ara is an AI-powered toothbrush using sensors to record usage data and help users improve their dental health. Even electrocardiograms that stream heart health data to your smartphone are being brought to market.
Health Insurers are thinking of ways to use these wearables and activity-tracking mobile technology to encourage healthier lifestyles. United Healthcare partnered with Qualcomm to get its customers moving with their United Healthcare Motion app. Users log the number of steps a day (measured via Fitbit Charge or other compatible devices) and build credit toward reducing out of pocket health costs. These trends will continue as insurers recognize the value using mobile technology to encourage healthy habits.
Healthcare apps are not limited to wearables. Apple's Health App and Google Fit can track and capture basic data points related to activity, nutrition, sleep and mindfulness without the need for any paired devices. Developer tools such as Apple's HealthKit API and the Google Fit SDK (software development kit) give mobile app developers the ability to extract health data collected by iPhones or Androids that can then be used in healthcare apps.
Connectivity Can Change Healthcare
Health insurance companies use a wide variety of data inputs to set their policies. Traditionally, they rely on past information regarding disease incidence and treatment options in order to predict the future. Health insurance apps can utilize mobility to improve medical services.
For example, enrollees using a mobile application would record and send data points related to diet, physical activity, sleep, and other health habits. This information is used to inform the development of sophisticated data models to create health insurance plans, preventive services and predictive information based on real-time data – not past information.
A Stanford University study raised the possibility that technology like this could help detect the risk of Type 2 Diabetes, a disease that is diagnosed well over a million times each year in the United States. It's encouraging to see that as mobile technology and applications get better, improvements to healthcare continue to develop.

Healthcare Apps Will Speed Up Services
Making quick and accurate diagnoses and treatment plans are critical. A Research Now Group study found that 50% of doctors plan to introduce a plan to integrate healthcare apps into their practice by 2020. A mobile connected HIPAA compliant tool lets physicians reference and update patient health quickly and easily as compared to traditional desktop software.
The coordination and management of care for hospitalized patients will only continue to improve as we invest in technology. Building secure communication platforms that allow doctors and nurses to share patient information. Access to data such as test results and prescriptions can reliably streamline the process for everyone.
Most importantly, healthcare apps are making it possible for treatment to be timely. For example, Invonto built a mobile app for doctors to consult with surgeons on patients with facial or hand injuries. This ensures critical patients get timely treatment from a physician they wouldn't otherwise have access to.
At Invonto, we are helping biotech and healthcare companies create innovative technology solutions for remote access to test results, applying machine learning to imaging data, and biometrics solutions for touchless admissions. Mobile applications combined with artificial intelligence, augmented reality, and virtual reality are transforming healthcare technologies.
Healthcare Apps Connect Patients & Physicians connect
We use our mobile devices to keep in touch with family and friends. Why not utilize mobile technology to connect patients and doctors? With medical apps, doctors can receive real-time patient updates about medication, dietary needs, fluctuations in temperature, and reactions to treatments. Having access to this health information can reduce the frequency of post-surgery check-ins and other follow-up appointments. For example, the Live by Early Sense device monitors patient vitals remotely and sends real-time alerts to caregivers. Products like this can be lifesaving.
Final Thoughts On Healthcare Apps
In conclusion, best practices for development dictate that the product must be functional, simple, and meet a quantifiable demand. Successful healthcare apps will garner the support of industry leaders. With their support and resources, you can continue to promote the advancement of technology in the healthcare sector.
Invonto's development team has experience building healthcare software and apps. If you've got an idea for disrupting the healthcare space, get in touch with us.